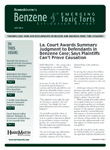 HarrisMartin's Benzene & Emerging Toxic Torts Litigation Report will track recent developments in litigation stemming from exposure to benzene, as well as a number of other emerging areas of toxic tort litigation, such as talc, silica, pesticides and other chemical exposures.

Download a publication order form here or subscribe here.

Cyber Monday Discounted Subscription Rate - ONE DAY ONLY! Discounts already taken from subscription rates at www.harrismartin.com. Subscribe at the lowest rates of the year here!
Benzene & Emerging Toxic Torts Litigation - Issue: 144
---
C-8 Plaintiffs Back Motion for Award of Attorneys' Fees, Say Defendants Cited 'Low Hourly Rates' When Opposing Motion
---
---
Ohio Jury Awards $2 Million to Plaintiff in C-8 Water Contamination Personal Injury Trial
---
4th Circuit: Use of COPR at Marine Terminal Constitutes 'Improvement to Real Property'
---
Maryland Court Tosses Chromium Exposure Claims, Says They're Barred by Statute of Repose
---
Defendants Back Removal of Benzene Suit, Say Ships Operated under Government Contracts
---
Benzene Defendant Moves to Transfer Venue from Pa. Federal Court to Southern District of New York