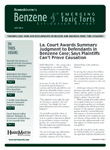 HarrisMartin's Benzene & Emerging Toxic Torts Litigation Report will track recent developments in litigation stemming from exposure to benzene, as well as a number of other emerging areas of toxic tort litigation, such as talc, silica, pesticides and other chemical exposures.

Download a publication order form here or subscribe here.

Cyber Monday Discounted Subscription Rate - ONE DAY ONLY! Discounts already taken from subscription rates at www.harrismartin.com. Subscribe at the lowest rates of the year here!
Benzene & Emerging Toxic Torts Litigation - Issue: 177
DuPont Says Deposition of In-House Counsel in C-8 Water Contamination Cases Not Improper
---
---
North Carolina Federal Court Sets Deadlines in Re-Filed Benzene Complaint from Pa.
---
Butter Flavorings Plaintiffs Move to Voluntarily Dismiss Cases, Note Parallel Actions Now Pending in Illinois
---
Texas State Court Dismisses Benzene Case, Finds Plaintiff's Disclosure of Causation Evidence was Untimely
---
Defendant Named in PCB Exposure Suit Removes Case, Cites 'Complete Diversity of Citizenship'
Benzene & Emerging Toxic Torts Litigation - Issue: 176
Plaintiff in Aromatic Hydrocarbon Exposure Case Moves to Compel Discovery Responses
---
Georgia Case Set for Sept. 9 Trial in State's First Talcum Powder Ovarian Cancer Trial