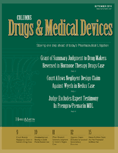 Get ready for the next wave of pharmaceutical litigation with HarrisMartin's Drugs & Medical Devices. This reporter will keep you one step ahead of drug and medical device litigation with in-depth investigations, guest commentaries and objective courtroom coverage on today's and tomorrow's hottest drugs and supplements.

Download a publication order form here or subscribe here.

Cyber Monday Discounted Subscription Rate - ONE DAY ONLY! Discounts already taken from subscription rates at www.harrismartin.com. Subscribe at the lowest rates of the year here!
Drugs & Medical Devices - Issue: 78
Maine Federal Judge Allows Fraud, Punitive Damages Claims to Proceed in M/L Taper Hip Action
---
"The Reports of the Death of Federal Multi-State Class Actions Have Been Greatly Exaggerated"
---
---
Oral Argument on Smith & Nephew's Motion to Dismiss BHR Hip Complaints Set for Jan. 24
---
Mich. Federal Judge Dismisses Electrosurgical Generator Lawsuit for Lack of Causation
---
Pa. Appellate Court Upholds 25 Percent Reduction of $27.6 Million Verdict in Zimmer Knee Action
Drugs & Medical Devices - Issue: 121
---
N.J. Jury Awards $15 Million to Plaintiffs in Prolift, TVT-O Transvaginal Mesh Case