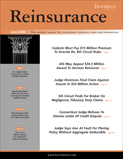 Reinsurance is an ever-changing industry and the competition is getting tougher. To maintain their edge, even the most seasoned litigators require an insider's knowledge of the latest news, issues and strategies. There's an easy way to stay on top all of the latest reinsurance-related legal developments. Subscribe to HarrisMartin's Reinsurance & Arbitration Report, a publication and online resource from HarrisMartin Publishing. Effective 3/1/21, HarrisMartin's Reinsurance & Arbitration Litigation Report will be online-only.

Download a publication order form here or subscribe here.
Reinsurance & Arbitration - Issue: 68
Reinsurer May Not Pursue Arbitration or Deny Payment on Contracts Related to Ambac Segregated Account, Wis. Court Affirms
---
Interest Included in Judgment Not a 'Loss' Under Reinsurance Certificate, N.Y. Federal Judge Rules
Reinsurance & Arbitration - Issue: 67
Mariah Re Liquidators File Amended Complaint Seeking Return of Alleged Overpayments for Storm Losses
---
Fla. Federal Judge Dismisses Suit Against OneBeacon; Finds Reinsurance Treaty was Not Implicated
---
---
Plaintiff May Collect Post-Award, Prejudgment Interest on Non-Contract Damages Portion of Arbitration Award, 9th Cir. Rules
---
Court, Rather than Arbitrators, Should Decide Collateral Estoppel Issue, Wausau Argues to 1st Cir.
---
Mass. Judge Allows Reinsurance Arbitration to Proceed; Finds No Violation of Umpire Selection Agreement