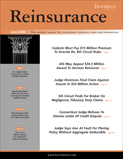 Reinsurance is an ever-changing industry and the competition is getting tougher. To maintain their edge, even the most seasoned litigators require an insider's knowledge of the latest news, issues and strategies. There's an easy way to stay on top all of the latest reinsurance-related legal developments. Subscribe to HarrisMartin's Reinsurance & Arbitration Report, a publication and online resource from HarrisMartin Publishing. Effective 3/1/21, HarrisMartin's Reinsurance & Arbitration Litigation Report will be online-only.

Download a publication order form here or subscribe here.
Reinsurance & Arbitration - Issue: 69
Clearwater Levies Counterclaim Against Utica Mutual, Seeking to Recover $1 Million Reinsurance Payment
---
R&Q Says it is Not Liable for Cedent's Defense Costs Arising from Asbestos Settlement
---
New Suit Says Excalibur Owes Travelers More Than $100,000 in Retrocessional Proceeds
---
---
Conn. Federal Judge Grants Excalibur's Motion to Seal Documents in Reinsurance Dispute with Travelers
---
---
N.Y. Federal Judge Compels Arbitration of Coverage Dispute, Finding Arbitration Clause is 'Mandatory'
---
Arbitrators, Not Court, Should Decide Preclusive Effect of Confirmed Arbitration Award, OneBeacon Argues to 1st Cir.