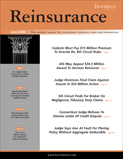 Reinsurance is an ever-changing industry and the competition is getting tougher. To maintain their edge, even the most seasoned litigators require an insider's knowledge of the latest news, issues and strategies. There's an easy way to stay on top all of the latest reinsurance-related legal developments. Subscribe to HarrisMartin's Reinsurance & Arbitration Report, a publication and online resource from HarrisMartin Publishing. Effective 3/1/21, HarrisMartin's Reinsurance & Arbitration Litigation Report will be online-only.

Download a publication order form here or subscribe here.
Reinsurance & Arbitration - Issue: 118
Calif. Appellate Court Directs Trial Court to Determine Whether Delegation Clause is Unconscionable
---
Judge Resets Deadlines in Conn. Federal Applied Underwriters Workers' Comp Dispute
---
Third-Party Complaint in Silica Coverage Case Dismissed for Lack of Personal Jurisdiction
---
"U.S. Treasury Department Releases Report Which May Provide a Preview of the Trump Administration's Agenda for the Regulation of the Insurance Industry"
---