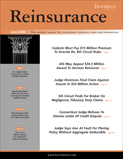 Reinsurance is an ever-changing industry and the competition is getting tougher. To maintain their edge, even the most seasoned litigators require an insider's knowledge of the latest news, issues and strategies. There's an easy way to stay on top all of the latest reinsurance-related legal developments. Subscribe to HarrisMartin's Reinsurance & Arbitration Report, a publication and online resource from HarrisMartin Publishing. Effective 3/1/21, HarrisMartin's Reinsurance & Arbitration Litigation Report will be online-only.

Download a publication order form here or subscribe here.
Reinsurance & Arbitration - Issue: 93
N.Y. Federal Judge Orders American Claims Management, Starr Indemnity to Appear for Settlement Conference
---
---
R&Q Urges Ill. Federal Judge to Deny St. Paul's Motion to Transfer Reinsurance Action to Pa.
---
Breach of Contract, Fiduciary Duty Claims Survive in Dispute Over Reinsurance Trust Agreement Assets
---
Reinsurance & Arbitration - Issue: 92
Travelers Files 'Anticipatory Breach of Contract' Action Against Excalibur in Connecticut
---
Claims Handler Must Arbitrate $2 Million Dispute with Excalibur Re, Ga. Appeals Court Rules
---
NICO Voluntarily Dismisses Claims Against Brazilian Reinsurer in $9 Million Premium Dispute