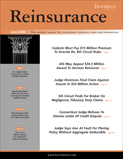 Reinsurance is an ever-changing industry and the competition is getting tougher. To maintain their edge, even the most seasoned litigators require an insider's knowledge of the latest news, issues and strategies. There's an easy way to stay on top all of the latest reinsurance-related legal developments. Subscribe to HarrisMartin's Reinsurance & Arbitration Report, a publication and online resource from HarrisMartin Publishing. Effective 3/1/21, HarrisMartin's Reinsurance & Arbitration Litigation Report will be online-only.

Download a publication order form here or subscribe here.

Cyber Monday Discounted Subscription Rate - ONE DAY ONLY! Discounts already taken from subscription rates at www.harrismartin.com. Subscribe at the lowest rates of the year here!
Reinsurance & Arbitration - Issue: 175
---
Union Pacific Opposes Reinsurance Fund's Motion to Dismiss in Mine Subsidence Brawl
---
---
---
---
---
---
Ga. Trial Court to Consider Captive Reinsurer's Request for Attorneys' Fees, Interest