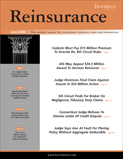 Reinsurance is an ever-changing industry and the competition is getting tougher. To maintain their edge, even the most seasoned litigators require an insider's knowledge of the latest news, issues and strategies. There's an easy way to stay on top all of the latest reinsurance-related legal developments. Subscribe to HarrisMartin's Reinsurance & Arbitration Report, a publication and online resource from HarrisMartin Publishing. Effective 3/1/21, HarrisMartin's Reinsurance & Arbitration Litigation Report will be online-only.

Download a publication order form here or subscribe here.
Reinsurance & Arbitration - Issue: 116
Wis. Federal Judge Says Lexington Must Pay for Courthouse Fire, Sends Bad Faith Issue to Jury
Reinsurance & Arbitration - Issue: 115
Calif. Federal Judge Dismisses Injunctive Relief Claim Against AmTrust in $3.2 Million Action
---
Endurance, Florists Seek Extension of Discovery Deadline in N.Y. Federal Reinsurance Action
---
Neb. Federal Judge Sets Discovery, Summary Judgment Deadlines in Promissory Note Dispute
---
SGA Re Shareholder Moves to Intervene in Canal Insurance's Action Against Golden Isles
---
---
AUCRA Asks Conn. Federal Judge to Reconsider Refusal to Transfer Workers' Comp Dispute to Neb.
---
OneBeacon Not Required to Produce Privileged Communications in Asbestos Coverage Action