HarrisMartin's MDL Conference: An Analysis of Today's Mass Tort Landscape Speaker Profiles
Co-Chair Richard Arsenault, Neblett, Beard & Arsenault, Show/Hide Bio
Richard Arsenault has been recognized as one of America's Most Influential Trial Lawyers by Trial Lawyer Magazine. He has participated in over 25 multidistrict litigation proceedings and currently serves as Co-Lead Counsel in the Actos MDL where a jury rendered a historic $9 billion dollar punitive damage verdict which has been reported as one of the nation's largest personal injury verdicts. He subsequently served on the Actos MDL team that negotiated a $2.4 billion dollar settlement which is the largest single mass tort settlement for a drug that is still on the market. In the Pinnacle MDL pending in Dallas federal court where Richard serves on the Executive Committee, he was part of the Trial Team that secured a $502 million dollar jury verdict against Johnson & Johnson and DePuy, after an 11 week trial. Richard was nominated for the 2015 Trial Lawyer of the Year Award by the Public Justice Foundation and also selected as a 2015 member of the Nation's Top One Percent by the National Association of Distinguished Counsel. The National Trial Lawyers recognized Richard as the 2014 Trial Lawyer of the Year Civil Plaintiff Finalist.

The New York Times has referred to Arsenault as a "big player" in the legal community. The Wall Street Journal has described him as having "national notoriety" and as a "big gun" among attorneys in competition for national leadership roles. They also noted he hosts "must-attend" legal seminars on the "hot cases" of the moment. Business Week has referred to him as "a Dean of the Louisiana tort bar", USA Today featured him as a member of the "Legal Elite" and the New Orleans Times Picayune has referred to him as "an authority on class actions."

Richard has over 300 articles and presentations to his credit and has authored many Law Review articles including one published in Federal Courts Law Review. Among other writings, he co-authored the chapter on Multidistrict Litigation in an ABA treatise. Richard was also asked by Judge Heyburn, JPML Chair, to participate in the Panel's "Multidistrict Litigation Study Project". He has personally participated in negotiating over $3.5 billion in complex litigation settlements in the last five years. Through a multi-phase selection process, the National Academy of Personal Injury Attorneys has chosen Richard to receive the organization's Top 10 Attorney Award for the State of Louisiana.

Richard's commitment to legal excellence is reflected in years of serving as a faculty member for LSU's Trial Advocacy Program, lecturing at Judicial Colleges and assuming leadership roles in both local as well as national Bar Associations. For over 25 years, Richard has had Martindale Hubbell's highest rating. He likewise is recognized by many other peer reviewed publications including the "Bar Register of Preeminent Lawyers," "Best of United States," "SuperLawyers" and the "Best Lawyers in America."
Co-Chair Jayne Conroy, Simmons Hanly Conroy LLC, New York Show/Hide Bio
As a named shareholder of Simmons Hanly Conroy, Ms. Conroy is an experienced litigator who has developed a superb national reputation as a skilled strategist, trial lawyer and negotiator over her thirty year career. For many years, Ms. Conroy acted as national trial and coordinating defense counsel to a multi-national corporation and several of its subsidiaries. In recent years, she has represented plaintiffs exclusively in a wide variety of products liability matters.

Ms. Conroy's practice currently focuses on various complex civil cases, including a high profile sex abuse case against multiple Catholic institutions and litigation against Volkswagen on behalf of several thousand plaintiffs who were affected by the German automaker's recent emissions scandal.

Ms. Conroy has a track record for standing up for the rights of individuals and families harmed by corporate wrongdoing. She has recovered millions in verdicts and settlements for those injured by unsafe consumer products, including victims of 9/11, families impacted by Toyota's recent unintended acceleration malfunction, and thousands of young women who suffered heart attacks and other cardiovascular injuries as a result of taking Yaz, a heavily marketed birth control manufactured by the Bayer corporation. She currently represents multiple individuals who were injured by DePuy artificial hips and pelvic repair system materials.
Co-Chair Eric D. Holland, Holland Law Firm, St. Louis Show/Hide Bio
Eric D. Holland was born in Illinois, growing up in a construction-trades family. During high school, Eric earned varsity letters in three sports (baseball, basketball and golf) and began working construction during summer breaks. Following high school, he attended the University of Illinois at Champaign-Urbana, graduating with a Bachelor of Arts Degree in Political Science and a minor in Economics. He attended the St. Louis University School of Law, where he was elected to the Law Review. Eric worked his way through college and law school in the construction business, often working overtime with his father and learning the value of hard work and precision. Since his graduation from law school, he has been admitted to the state bars of Illinois, Missouri and Michigan as well as federal courts in Texas and Colorado. He has also been admitted to practice in particular cases in dozens of other states and forums and has led litigations from coast to coast. He now leads a nationally-recognized law firm based in St. Louis.

Eric limits his practice to railroad and transportation accidents, mass torts, class actions and other complex litigation. He has litigated cases throughout the United States and has obtained a host of record-setting jury verdicts and settlements. In single injury cases, he obtained over 25 multi-million dollar results in the first 20 years of his law practice involving railroad, product liability, and trucking matters. Over the last decade, Eric has developed his firm's aggregate litigation practice, which has followed the path of his early career. Most recently, he served as Plaintiffs' counsel where he successfully represented over 200 franchise owners in a business interruption matter that resulted in a multi-million dollar recovery and as co-lead counsel in a banking class action that resulted in a settlement valued at $20 million. His acumen in complex litigation was noted by a judge presiding over one of Eric's cases, finding that his handling of the case was "exemplary" and that he had a "command of complex litigation" that the judge praised. Eric is regularly hired by the country's seriously injured railroad workers, catastrophic injury victims and their families, as well as a wide variety of other clients including publicly-traded companies, water districts, hospitals, villages, international companies, judges and consumers. He is also approved counsel for a national labor union.
Co-Chair Rachel Lanier, The Lanier Law Firm, New York Show/Hide Bio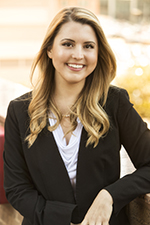 Rachel Lanier joined the Lanier Law Firm's New York office as an associate in 2016 and practices in the areas of toxic torts, pharmaceutical litigation, mass torts, and product liability.

Ms. Lanier is dedicated to representing injured clients and their families by pursuing justice for those who have been harmed by toxic substances and defective products. Prior to joining the Lanier Law Firm, Ms. Lanier was an associate at a mid-sized firm in Manhattan, where she focused on representing individuals suffering from asbestos-induced diseases, such as mesothelioma and lung cancer.

Ms. Lanier is a native Houstonian and received her Bachelor of Arts in Psychology with a Minor in Religion from Pepperdine University in California. She then pursued a law degree from St. John's University School of Law in New York, where she served as a legal advocate for domestic abuse victims through the Domestic Violence Litigation Clinic. She also worked as a teaching fellow for Dean Michael A. Simons, and was a recipient of the Dean's Award for Excellent Service for her extensive pro bono work.

Ms. Lanier is a member of the American Bar Association, American Association for Justice, New York Bar Association, and New Jersey Bar Association. She enjoys speaking at Continuing Legal Education seminars, including the Annual Complex Litigation Symposium in Louisiana, about ethical attorney behavior.

Ms. Lanier was recent named by the American Academy of Attorneys organization as one of the Top 40 Under 40 attorneys in 2018. Additionally, Ms. Lanier earned a place on the 2017 and 2018 New York Rising Stars List.

Ms. Lanier is admitted to practice law in New York and New Jersey.

When she is not passionately advocating for her clients, Ms. Lanier enjoys exploring New York City with friends and family, singing, painting, and playing guitar.
Keynote Speaker W. Mark Lanier, The Lanier Law Firm, Houston Show/Hide Bio
Attorney, author, teacher, pastor and expert storyteller, Mark Lanier is no stranger to the public platform. Since he founded The Lanier Law Firm in 1990, Mark has earned international recognition as one of the top trial attorneys in the United States, with firm offices in Houston, Oklahoma City, New York and Los Angeles supporting his work for clients across the country.
Thomas R. Anapol, Anapol Weiss, Philadelphia
Virginia E. Anello, Douglas and London, P.C., New York
Harvey Brown, The Lanier Law Firm, Houston
Todd Campbell, Neblett, Beard & Arsenault,
Dustin C. Carter, Neblett, Beard & Arsenault,
Lindsey Cheek, The Cheek Law Firm LLC, New Orleans
Erin Copeland, Fibich, Leebron, Copeland & Briggs, Houston
R. Seth Crompton, Holland Law Firm, St. Louis
Brooks Cutter, Cutter Law, P.C., Sacramento, CA
Blake Deady, President, Archer Systems, LLC, Houston
Brian Devine, Seeger Salvas & Devine LLP, San Francisco
Professor Jaime L. Dodge, Director, The Institute for Complex Litigation and Mass Claims, Emory University School of Law, Atlanta
Nicholas J. Drakulich, The Drakulich Firm, San Diego
Robert J. Drakulich, The Drakulich Firm, San Diego
Yvonne M. Flaherty, Lockridge Grindal Nauen P.L.L.P., Minneapolis
Scott Freeman, Co-Executive Chairman, Archer Systems LLC, Houston
Paul J. Hanly Jr., Simmons Hanly Conroy LLC, New York
Lynn Luker, Stanley, Reuter, Ross, Thornton & Alford, L.L.C., New Orleans
Victoria J. Maniatis, Sanders Phillips Grossman, LLC, New York
Catelyn McDonough, Anapol Weiss, Philadelphia
Todd Matthews, Gori Julian & Associates, P.C., Edwardsville, IL
Melanie H. Muhlstock, Parker | Waichman LLP, New York
James F. Murdica, Barnes & Thornburg LLP, Chicago
Sarah Paszkiewicz, CEO, Paszkiewicz Court Reporting & Records Retrieval, Maryville, IL
Gale D. Pearson, Pearson, Randall & Schumacher, P.A., Minneapolis
Scott A. Powell, Hare Wynn Newell & Newton, Birmingham, AL
Justin Presnal, Simmons Hanly Conroy LLC, Alton, IL
Joseph F. Rice, Motley Rice, Mount Pleasant, SC
Jessica Richman, Parker | Waichman LLP, New York
Mark P. Robinson Jr., Robinson Calcagnie, Inc., Newport Beach, CA
Gary J. Russo, Jones Walker LLP, Lafayette, LA
David L. Selby II, Bailey & Glasser LLP, Birmingham, AL
Will Shapiro, Executive Chairman, Archer Systems, LLC, Austin, TX
Sean Tracey, Tracey & Fox, Houston
Joseph Thorpe, Chief Executive Officer, International Litigation Services, Inc. (ILS), Irvine, CA
Shean D. Williams, The Cochran Firm, Atlanta
James M. Williams, Chehardy Sherman Williams, Metairie, LA